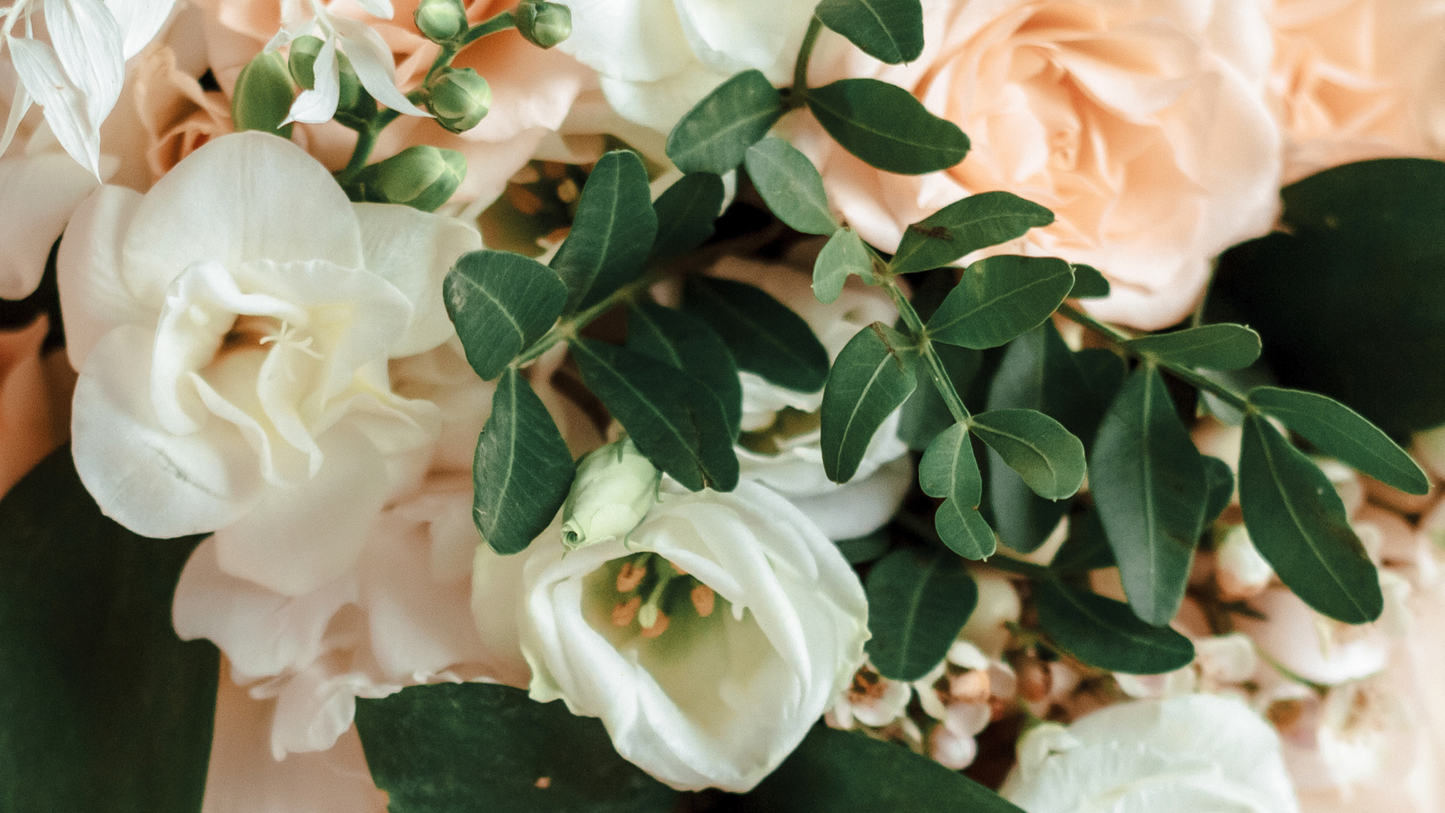 10 Unique Keepsake Ideas Besides Breastmilk that Make Gorgeous Jewelry Pieces
There are endless possibilities for keepsakes to include in your jewelry piece. From birth flowers, to a special piece of fabric, even a pregnancy test! Just send me an email with your ideas and we will work together to make your keepsake jewelry dream piece a reality!
Are you a mama of older children and wish you had saved some breastmilk for a special keepsake ring? Perhaps you'd like to create a wedding band made out of your own wedding boquet. Or maybe someone close to you has recently passed and you want to keep their memory close to your heart. You can always create a stunning wearable work of art with other keepsake inclusion options! Here are some alternative keepsake ideas to include in your stone design for a special piece made just for you.
1. Wedding bouquet flowers
These pieces are absolutely gorgeous and so unique! If yours is 10+ years old like mine and has turned brown over time, we can add a little pigment and shimmer to bring it back to life!

2. Funeral flowers
Similar to bouquet flowers, this is a beautiful way to keep memories of a loved one who has passed close to your heart.
3. Sand
Turn memories from your honeymoon or a special vacation into a piece by adding sand to your stone! You can add gold flakes, genuine diamond dust and crushed opals to give it extra sparkle!
4. Sea glass
I'm originally from a small beach town called Wilmington, NC and we would always look for sea glass as a kid when we went to the beach. My mom loves sea glass and has a huge collection of all the sea glass we collected over the years. I used some mixed with my breastmilk to make a gorgeous pair of earrings for her. They're truly stunning and you can see a photo here. I could use almost any material, crush it, and create a stone out of it for your jewelry piece.
5. Pregnancy test
It might sound strange but I can take the pink cap of a pregnancy test and turn it into a stone that resembles rose quartz! Instead of keeping your positive pregnancy test locked in a drawer forever, let me turn it into a keepsake jewelry piece!
6. Autumn leaves
My husband laughs at me because I keep all the rocks and acorns and things my toddler gives me when we go on walks outside. What can I say - I'm super sentimental, ha! This fall, he picked up a bunch of beautiful red leaves off the ground from our October Glory trees. I dried them out and turned them into a stunning stone that looks like garnet and made a ring for myself to remember our walks together. One day he'll stop picking up the rocks and leaves off the ground and I know I'll miss it. I'll always be reminded of those sweet, simple times with my son when I look at my ring. I made one for my mom too, as a grandparent gift out of leaves he picked with her. She adores it.
7. Leaves/flowers from a special tree
After we lost our daughter, we planted a cherry blossom tree above where we buried her. Every time it blooms in the spring, I'm reminded that she is blooming in heaven and I'll see her again some day. I plan on drying out some of the flowers this year and turning it into a light pink cherry blossom stone for a keepsake ring. Another ring I plan on making is from a dandelion my son picked for me at the park. As he handed it to me he said, "here you go mama! I love you!" It totally melted my heart and it was the first time I remember him saying he loves me. I want to keep that sweet moment close to me forever.
8. Fabric
I can take a tiny piece of fabric from a loved one's clothing - perhaps a special baby onesie, blanket, or ribbon, and turn it into a keepsake jewelry piece.
9. Rocks/Stones
If you have stone or rock your toddler gave you on your adventures around the neighborhood send it over to me and let's make some jewelry! I actually have a little mason jar filled with rocks my little guy gave me and I plan on making something special with them. 
10. Birth flowers
Did you know that every month of the year has a special birth flower with its own unique meaning? For instance, June's flower is the rose which is a symbol of love.  January is the snow drop flower which means hope, new beginnings, and overcoming difficulties. I think this is such a beautiful and meaningful way to symbolize your children or someone dear to you.
11. Baby teeth
I'll throw in an extra one for ya! Baby teeth make beautiful white stones that resemble breastmilk stones. Do you have a bunch of your kid's teeth sitting in the back of your dresser drawer? Send me one or two and I can add crushed opal, diamond dust, birthstone, even genuine meteorite and create a sentimental piece of jewelry. What else are you going to do with the baby teeth sitting in your dresser 'till the end of time? ;P
Have any other ideas of keepsake inclusions you'd like to turn into a jewelry piece? Shoot me an email and I'll let you know if we are able to make it work with our preservation process!