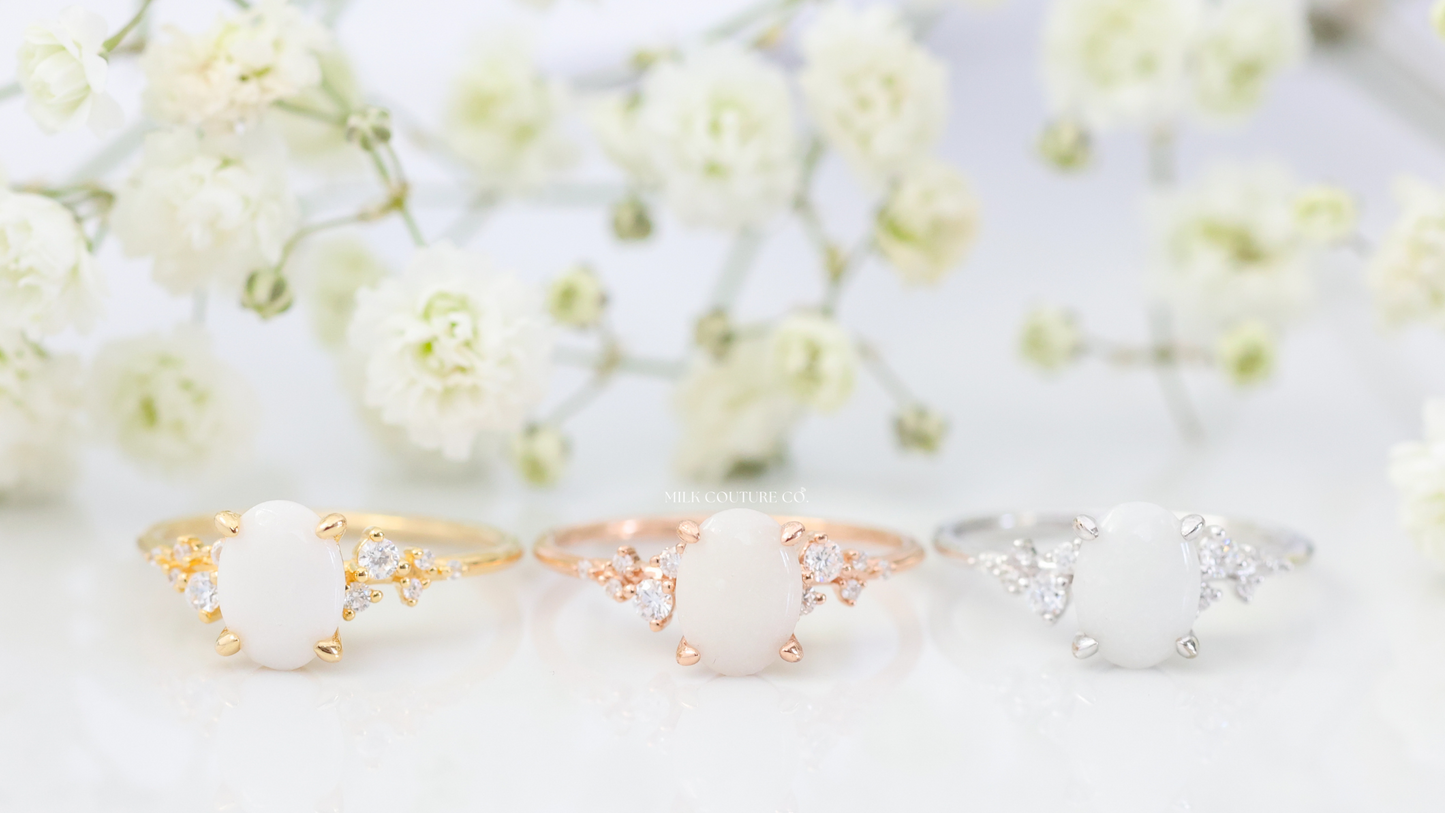 Everything to Know About Our Metal Options at Milk Couture Co.
I don't know about you, but I like having options. And here at Milk Couture Co., we have a ton of them! Ever since the start of MCC, I knew I wanted my pieces to be for ALL mamas on ALL budgets which is why we offer so many options. I know it can get a little confusing so I'm here to help you break it all down so you can have a full understanding of all of our metals, finishes, and the pros/cons of each!


SOLID 14K/18K GOLD

Solid gold is the epitome of elegance and luxury. Just like the irreplaceable bond you share with your baby, solid gold jewelry is enduring and timeless. Crafted from pure gold, it not only shines brilliantly but also offers the durability to stand the test of time. We offer 18K yellow gold, 18K rose gold, and 14K white gold. The reason we do 14K for white is because 18K has a yellow hue that isn't as aesthetic (in my opinion). 18K rose/yellow has a rich and beautiful color and is the highest quality of wearable gold.
Pros:
Exceptional Durability: Solid gold jewelry is built to last, making it a perfect heirloom piece to pass down through generations.
Hypoallergenic: It's the perfect choice for sensitive skin. Solid gold is hypoallergenic, ensuring comfortable wear for even the most delicate skin types.
Resilience: Gold is highly resistant to tarnishing and rust, meaning your breastmilk jewelry will retain its stunning glow.

Enduring Value: Gold has been prized for centuries and holds inherent value. As a precious metal, it retains its worth over time and can serve as a tangible investment. Solid gold jewelry carries not only sentimental value but also the potential for long-term financial appreciation.
Cons:
The Cost of Opulence: As they say, all that glitters comes with a price tag. Solid gold is undeniably an investment, but rest assured, its worth transcends monetary value.


STERLING SILVER

With its undeniable beauty and versatility, solid sterling silver has captured the hearts of jewelry enthusiasts for centuries. While not as rare as gold, it possesses its own distinctive allure.
Pros:
Affordability with Style: Solid sterling silver offers an exquisite alternative for those seeking beauty on a budget.
Hypoallergenic: Similar to solid gold, sterling silver is considered a hypoallergenic metal - safe for sensitive skin.
Durability: Sterling silver is a sturdy and durable metal. When properly cared for, it can last a lifetime.
Cons:
Oxidation Woes: Over time, silver can develop a natural patina or tarnish. Each MCC piece comes with a silver polishing cloth that easily restores your piece to its original brilliance.
GOLD PLATED STERLING SILVER
Looking to indulge in the look of 18K yellow or rose gold without breaking the bank? Plated sterling silver pieces offer an affordable option that allows you to wear your favorite metal finish!
Pros:
Gold plating provides an enticing option for those seeking the luxurious look of precious metals at a fraction of the cost.
With an array of plating options like gold, rose gold, or rhodium, you can match your breastmilk/keepsake jewelry to your personal style effortlessly.
Cons:
Over time, the plating may wear off, revealing the underlying silver.
18K GOLD VERMEIL
This luxurious hybrid blends the best of both worlds by combining sterling silver with a 2.5-3 micron layer of 18K Gold (five times thicker than normal plating). It's the ultimate indulgence for those craving a touch of luxury.
Pros:
Opulent Aesthetic: Vermeil jewelry radiates a regal elegance, adding a touch of royalty to your breastmilk keepsake.
Durability and Value: With the silver base providing durability and the gold layer offering a lavish look, vermeil strikes a balance between affordability and luxury.
Hypoallergenic Advantage: Similar to solid gold, vermeil jewelry is hypoallergenic, ensuring comfortable wear for sensitive skin.
Cons:
As with any gold-plated jewelry, vermeil may wear off over time. Avoid harsh chemicals to keep it gleaming.
At Milk Couture Co., we understand that choosing the perfect metal for your breastmilk, keepsake, and travel jewelry isn't always the easiest decision. Whether you opt for the everlasting allure of solid gold, the versatile charm of solid sterling silver, the affordable sparkle of plated metals, or the luxurious hybrid of vermeil, your cherished memories will be forever encapsulated in a stunning wearable work of art. So, embrace the magic, wear your story, and let your Milk Couture Co. pieces shine bright!